I was born a cowgirl (although when I was really little I would have thought of myself as a cowboy). Seriously, I'm pretty sure I emerged from the womb wearing a fringed, suede vest and cowboy hat. Mind you, I was born in Kentucky and spent the first years of my life living in a trailer park instead of on a ranch, but I was a bona fide heroine of the Wild West all the same.
Although I was only three or four years old at the time, I still remember when I got my first pair of cowboy boots. I can recall exactly how they looked and how it felt to slip my feet down in them for the first time. I was so into the cowboy motif, I actually arrived at school one morning when I was about seven years old, and removed my coat, only to find that I was still wearing my suede vest with my pajama top underneath! I had been so deeply immersed in my cowboy adventure before school, I had forgotten to finish getting dressed!
Then there was my faux-nickel-plated, ivory-handled pair of six shooters. Ah, they slid so smoothly into my black, heavily-tooled, double-holstered gun belt. I flipped out over this fine pair of shootin' irons! I was so young when my mom got them for me that I wasn't yet strong enough to pull the trigger with one finger. But I rapidly became a seriously quick draw. As I recall, I could easily outdraw and outshoot all the other kids in the trailer park (I'm pretty sure that's true, as I'm still a good shot to this day).
Next came my very unique and extraordinarily special buffalo rifle. It was a huge, Winchester-style, lever-action, toy repeating rifle. It was so big compared to my body size at the time that I was able to comfortably use it for the next six years or so without it ever feeling like a toy rifle. With its engraved, faux ivory stocks and intricately carved, silver gun metal, the thing perfectly matched my pistols. It had a buffalo molded into one side of its metal receiver. I stared at that beast thousands of times throughout my youth imaging great adventures (none of which actually involved shooting a buffalo). I can't remember what I had for breakfast this morning, but I can clearly recollect twirling my six shooters and stalking the family dog with my buffalo rifle just like it was yesterday.
Along with all of this western fantasy came a love of animals (horses in particular), a love of the outdoors, and a yearning for adventure that has never left me. I'm still that cowgirl dreaming of the mountains and following the buffalo in search of myself. Is it any wonder, then, that I recently returned to the bison range at Land Between the Lakes (LBTL) to shoot more buffalo (with my camera)? I do realize, by the way, that American buffalo are actually Bison native to North America and not buffalo at all (which are native to parts of Asia), but I'll mainly refer to them as buffalo here, as this is what I called these animals as a child.
The Buffalo Roundup
On this trip at the beginning of December, the autumn foliage was gone, but the weather was unseasonably fine and sunny. Many of the rolling fields were full of tall, yellow and brown grasses, some of which had billowy, white tufts of flowers gone-to-seed on top. The seeds bursting from these white tufts sometimes speckled the fur of buffalo foraging among the high grasses and then easily resembled an almost imperceptible layer of snow coating their dark faces and backs. The winter pastures and leafless forests dotted with evergreens imparted a complex combination of textures to the landscape, while the earthy browns and yellows cast a warm glow across the terrain in the late afternoon sunlight. The mild air was clear, fresh and calm.
On this trip to photograph the buffalo, I was again joined by my friend and fellow photographer, Kristi. We began our roundup at the south bison range where we had photographed buffalo at the fence line near the main road on our previous trip in early November (when our goal had been to capture the last of the autumn colors). This time, however, the buffalo were far from the road and almost hidden in a distant pasture behind a partition of trees.
We backtracked and turned down a dirt road that we hoped would take us west and closer to that part of the enclosure where buffalo of all sizes were either grazing or enjoying an afternoon snooze laying on the ground under a small stand of naked trees. Luckily, we found a primitive parking area near the pasture. From there, we gathered our gear and hiked up a rough trail clogged with sharp, broken reeds and prickly briers. About half a mile up the trail, after trekking up and over a couple of steep hills, the herd finally came into view.
We readied our cameras, and walked right up to the tall, wire fence. First the young and then the older, larger bison stopped what they were doing and quickly made a beeline for us. I hadn't seen this behavior previously and remember thinking, "Wow! They're so happy to see us or maybe hoping for some food..." The young ones did seem to be very curious. Initially, we were able to insert our camera lenses through the fence for an unobstructed view of the approaching herd. However, the huge, adult females with their dark, curly bouffants, and the imposing bull with his enormous head and shoulders, soon made it clear that they weren't interested in handouts.
One large female came right up to the fence in front of me and I briefly touched her soft, tightly curled locks before her deep, guttural growl inspired in me a feeling of unease. A moment later, this imposing female lowered her head and rammed her horns into the fence right next to where I was standing. The young ones may have been looking for a new adventure when they approached us, but the adults clearly intended to keep us at a distance and warn us away from the young. We quickly backed away from the fence, but two females standing over 5 feet at the shoulder rammed the wire fence several more times just to make their position clear.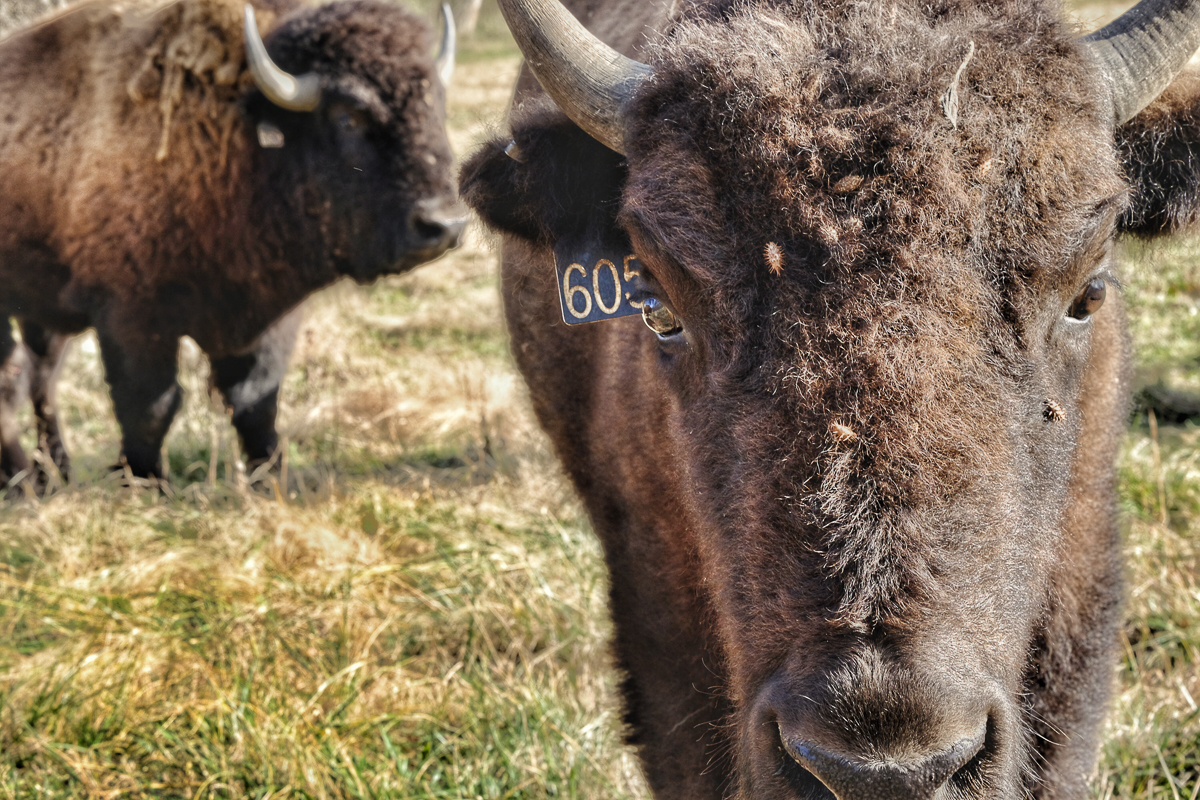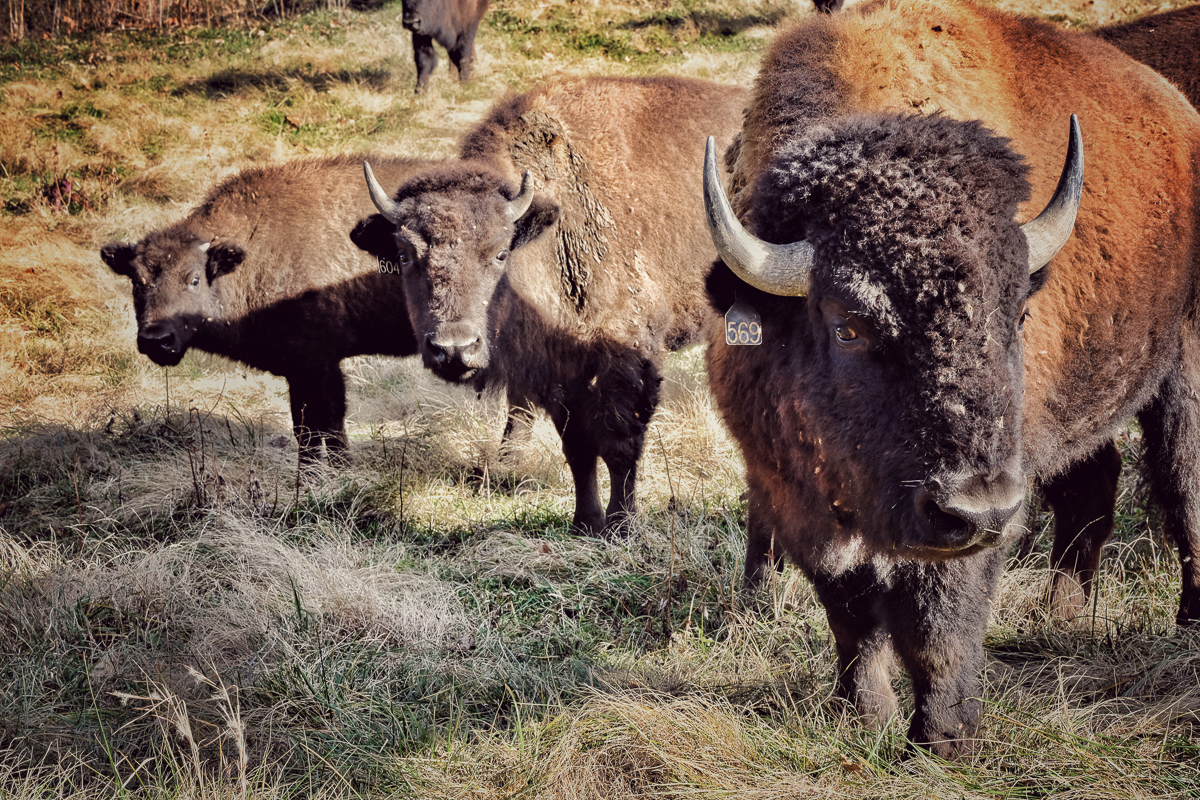 When we stepped away from the fence and tried moving further down the trail to another gathering of buffalo, the adults continued to follow us right along the fence line, occasionally emitting deep rumbles of warning. Kristi backed further away and moved up a hillside to try to get better shots over the fence with a powerful, zoom lens. I retreated in the other direction to try to minimize the threat we seemed to pose. I had never seen the bison at LBTL behave aggressively. Bison mating season runs from July through September; this was the first week of December. But, as I backed down the trail, I noticed the large male repeatedly trying to mount a mature female. Maybe this behavior had something to do with the unseasonably warm weather?
We did manage to take some photographs in the bright light of early afternoon, but we only stayed at that location about 20 more minutes. One female, in particular, seemed to take issue with Kristi and her long lens and moved at every turn to thwart her efforts to capture some clear, unobstructed pictures of the adolescent calves. We decided to gather our gear and head back to the car to try our luck further north at the LBTL Bison and Elk Prairie. On the way, we stopped at the Golden Pond park visitor center. We talked to a ranger to find out more about the Bison and Elk Prairie and how to access it. As we were leaving, the ranger mentioned that he didn't know why, but the bison had been "behaving strangely lately".
The Bison and Elk 'Safari Park' Experience
We ended up finding many more photographic opportunities to the north at the Bison and Elk Prairie. This area is a 700-acre, enclosed grassland over rolling hills mixed with clumps of deciduous and evergreen forest. About 70 elk and close to 90 bison can be found here, as well as wild turkeys, hawks, and many other critters. The prairie is a drive-thru attraction open to visitors in vehicles from dawn to dusk, seven days a week, and contains a 3.5 mile paved loop dotted with interpretive stops. A $5 entry fee per vehicle buys one a hit-or-miss chance of viewing the animals up-close, depending upon whether they happen to be near the drive when one visits.
We were really lucky on that day, as there was a large herd of buffalo hanging out close to both sides of the road (and sometimes in the middle) at one area along the drive, and the buffalo mingled there for a long time. We also saw half a dozen elk, a few turkeys, and a falcon perched high atop a dead tree during our two loops through the park. Although I've never visited one, I imagine that driving the loop that day within feet of standing buffalo and passing elk was a lot like driving through one of those safari parks found at places like Busch Gardens. We took our time and spent a lot of it pulled off to one side of the drive photographing bison and elk.
As mentioned, the buffalo were gathered in one area along both sides of the road. Fortunately, we experienced none of the aggressive behaviors from the animals here that we had encountered at the south range. In fact, they barely seemed to notice that we were there. We were able to keep our windows down and lean out when needed to grab unobstructed shots of buffalo passing, grazing or playing within just a few feet of our car.
The excitement was palpable inside our vehicle as we worked quickly to capture as many photographs as possible in the fading, late afternoon, December light. Each of us was hoping that she would be the one to grab a unique and spectacular shot; that one-in-a-hundred image that would end up being the best shot of the day. One moment, Kristi was the lucky one with the best shots on her side of the vehicle, the next moment I was getting a new opportunity on the passenger side. Fortunately, Kristi occasionally lent me her large and powerful 100-400mm zoom lens so I could get a few close-ups. Otherwise, all of my shots were in the range of 50-200mm.
The herd was a mix of babies under two, adolescents and adults. I really enjoyed the opportunity to get some close-up shots of the massive adults grazing in golden, shoulder high grasses topped with those white, billowy flowers. Although photographers typically try to capture wildlife as clearly as possible, and particularly desire that the eyes be the main point of focus in a shot, I could imagine the potential in shots where the buffalo were largely or partially obscured by grasses. I envisioned images of adults foraging in the winter flora where the only visible part of the animals were the archetypal shape of the humped shoulders, the curved horns and full heads of hair, or perhaps ones that included just one eye peeking out from between stalks of golden grass.
I was also keen on getting full-body shots of large adults grazing in the open. I wanted to photograph the whole buffalo to convey a story about the unique and unmistakable shape of an animal that signifies so much of the tragedy and promise of the American West. I didn't have many opportunities, but I did get one shot I like that to me really conveys the sheer physical power and size of the buffalo; the largest land mammal in the Americas.
One young buffalo, in particular, was pretty entertaining to watch and photograph. She was just developing her horns and still nursing, so I'd guess she was around six months old. At first she was simply standing around ruminating on a few blades for grass, but then she decided that her face needed an extended dirt bath. She rubbed her nose, eyes, cheeks, and head all over a shallow bank of dry dirt for at least five minutes. She stirred up an impressive cloud of dust that quickly settled on her fur and ended her bath by sticking her nose to the ground and blowing up puffs of earth with her nostrils. Then she decided it tasted pretty good and had a go with her tongue.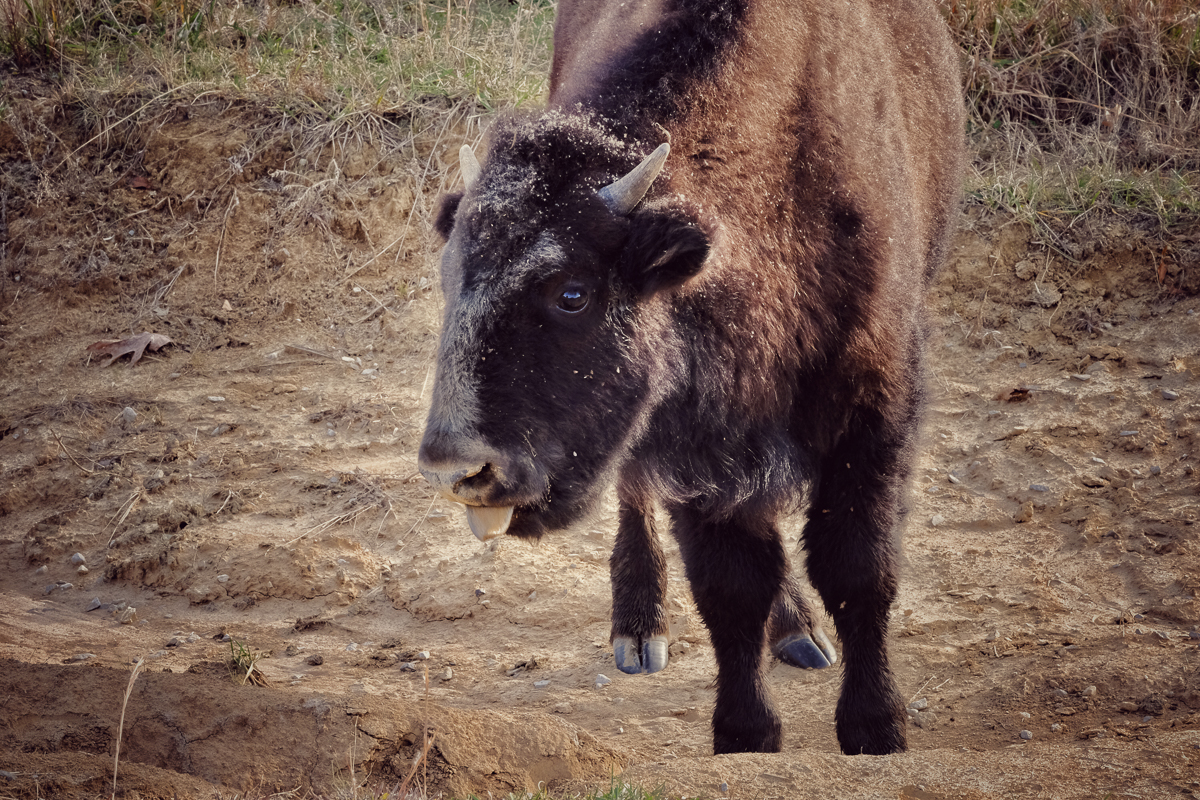 All of that bathing must have worked up a significant appetite, as, just as she had concluded her antics, her mother passed in front of our car and offered her udder to the calf for an afternoon snack. Imagine nursing such a huge baby! Soon, the soil on that calf's face was mingled with milk; she was an impressively messy eater.
Eventually, we left the buffalo and moved on around the loop where we encountered a hawk perched high atop a dead tree, a few turkeys, and some elk. The turkeys were shy and refused to emerge from the tall grass for some decent pictures. The elk were more cooperative, but did not approach within 20 yards or so of the road. There was a male that looked full grown, but I assume he was on the young side, probably under two years old, because he had a set of antlers that were short and skinny and a thin neck. I have read that male elk do not develop a full, large rack until around 10 years of age. The grown females and males all had long manes of hair down the full length of their necks and the cows had particularly beautiful faces and eyes.
All-too-soon, the light began to fail and it was time to leave the prairie. I hated to go, but we still faced needing to get some dinner and the drive back to Clarksville. We were also excited to get those photos downloaded, sorted through, and edited, in the hopes of finding some gems. I am sharing most of the photos I liked best from the trip in this post.
The Allure of Buffalo and My 'Cowboy-Self'
I love nature and animals of all kinds, but some species in particular tap into my oldest, truest self. Horses and buffalo are two of the most important. When I visit the buffalo, I can't help but remember the many days of my childhood spent acting out dreams of the Old West. Like any intelligent child with an active imagination, I did more than play; I dwelt in my fantasies. And these experiences formed who I am today.
In between our visits to photograph the buffalo in November and December, I experienced a significant internal change and found myself in a different and better place. Not a new place; it was an old place that I had almost forgotten how to inhabit. The change filtered up into my consciousness shortly after I posted a new profile photo on Facebook at the end of November; a photo of myself from my early childhood that I call Cowboy Me. I realized that I had landed in that place again; the one where my life feels like it is full of possibilities. That's the place that most of us are fortunate enough to inhabit when we're children and young adults. But, I hadn't been there for probably seven or eight years. I honestly figured that I would never find myself there again, both because of some of the unfortunate events in my life and because I have naturally continued to move more deeply into my autumnal years.
Happily, I was wrong. Granted, it's not just the buffalo that have brought me back into the realm of optimism, hope and dreams. It has taken years of some work and suffering to return to a place where I see a broad horizon when I look to the future. Getting more deeply back into photography and creativity, forming Light Brew Photography, writing this blog and sharing my work with others have all made the biggest difference in my life.
The buffalo have now become a part of my new life as a writer and photographer. These animals, in particular, have reminded me not only of who I used to be, but who I still am in my deepest self. Because of them, I realize now that I still want (and need) to spend my days wandering the open range, pushing through the tall grasses of possibility, and living life as my authentic cowboy-self.
Thanks for reading, and remember; YOU can help me realize my modest dreams of success by SHARING THIS CONTENT on your social media networks using the Share buttons below. Happy Holidays!
-- Angela Martin
p.s. – Click here to get a FREE PDF Download of some of my most beautiful Seascapes.