When I started stumbling around with techniques in compositing in photography (processes that involve blending together elements from two or more photographs), the word "chimera" eventually surfaced in my mind. My compositing process and early images evolved through experimentation, and then the concept followed.
I suppose a lot of people haven't ever encountered the word chimera, but somewhere along the course of my life experiences I picked it up and absorbed it into my creative subconscious. Google Dictionary defines a chimera as:
I imagine chimera not as Frankenstein's monster (a creature composed of the poorly stitched together and distinct bits and pieces of several human bodies), but as an utterly unique and coherent, whole organism formed from processes in nature, such as mutation. Whereas Frankenstein's monster encourages us to think of the human body as a machine composed of interchangeable parts, chimera remind us of complex and holistic natural systems that can fuse and morph in unpredictable ways.
If you look at my photograph, Light Leaks, I think you'll see why it caused this concept to surface in my mind. The image is a blend of two photographs of the natural world; a close up of a succulent house plant on my sister's kitchen counter blended with a photo of spring flowers in the forest near my home. It was the first time that I approached compositing with no regard for realism.
I wanted to create something completely new from two disparate elements; something with its own coherence and unique identity. The resulting image is still natural and organic. However, applying additional effects, such as artificial light leaks, aided in realizing my goal of visually fusing the two photographs and lent an almost abstract quality to the final product.
Once I consciously connected the word chimera with my own unique technique of compositing, it became the organizing concept for a whole new series of images. This series is very colorful, creative, and fun, and has so far been very successful for me commercially, so I wanted to share it with you.
Double Exposures and Early Attempts at Compositing Photography
Double exposures are the original method of composite photography. Most people know what a double exposure is; historically it involved exposing the same piece if film twice. The double exposure is a technique that, by definition, occurs in-camera. Even today's digital double exposures involve overlaying two digital images taken back-to-back in-camera. My photograph, Trees Reaching for the Sky, is an in-camera double exposure of the trees in my backyard. Changing the angle of the camera slightly between exposures achieved the desired effect. The resulting figurative photograph is realistic in the sense that the subject is clearly discernable and it's obvious that it is the result of a double exposure.
Double exposures created in-camera can be beautiful and interesting, but they are limited by the nature of the technique; the exposures must be taken back-to-back, and the camera's computer determines how they are combined. One can achieve much more flexibility by combining images post-exposure, outside of the camera in image editing software, like Photoshop or Snapseed.
For example, I could never have achieved my composite photograph, Merging Seasons, in-camera, as it combines two photographs of the same scene taken about 6 months a part. Look closely, and you can see the bare branches of winter mingled with the full leaf of summer among the deciduous trees. Constructing this composite post-exposure also made it possible for me to control the relative transparencies of the different images I merged into one (in this case three images altogether).
Achieving Consistency by Formalizing Technique
I'm fortunate in that my first attempt, Light Leaks, was liked well enough by a potential client, that she requested I produce a couple more images of similar coloring and style, as she wanted to purchase a trio of large photographic prints to hang in her home. This commission pushed me to dissect and then formalize the technique I had used to create the original composite. This is the only way I could produce a range of new images that were consistent with the original.
Once I had formalized and recorded the process as a series of edits in my photo software, I could choose the two images I wanted to combine, experiment with the order of the image layers and the relative transparencies, and achieve a unique series of images that were consistent in style. One set I produced combined flowers with other plants, just as I had for Light Leaks. You can view some of them in the gallery below.
Branching Out into More Figurative Composites
After I had produced a series of plant-based images for my client, I started to experiment with less abstract, more figurative composites developed using most of the same software presets. I made these for myself, although sometimes with other people in mind. This series is composed of composites where I combined photographs of butterflies, moths and other insects with photographs of flowers and other plants. The final composite photographs are constructed from between two and four different images. I describe these composites as more 'figurative', because the primary subjects are easily identifiable and unmistakable, just as they are in nature.
Blending Texture and Color in Organic Chimera
Over the course of this project, I have become more interested in how the concept of chimera might guide my compositing technique and the types of images I'm producing. I've been experimenting with blending more abstract, natural textures with more figurative subjects, like butterflies and flowers. I am typically fusing two images. The first layer provides the texture, such as a photograph of glistening water or of tree bark, while the second photograph or layer provides the subject, such as a flower or butterfly, that is fused into the first. For example, experimenting with transparency appears to melt a flower into the texture of the underlying bark, to the extent that this texture becomes a part of the structure of the flower.
I find that some of the images resulting from these experiments contain beautiful, intense, yet natural colors, and distinctively organic textures. Some border on the abstract, but all recall the fusion of different forms of life into compelling chimera.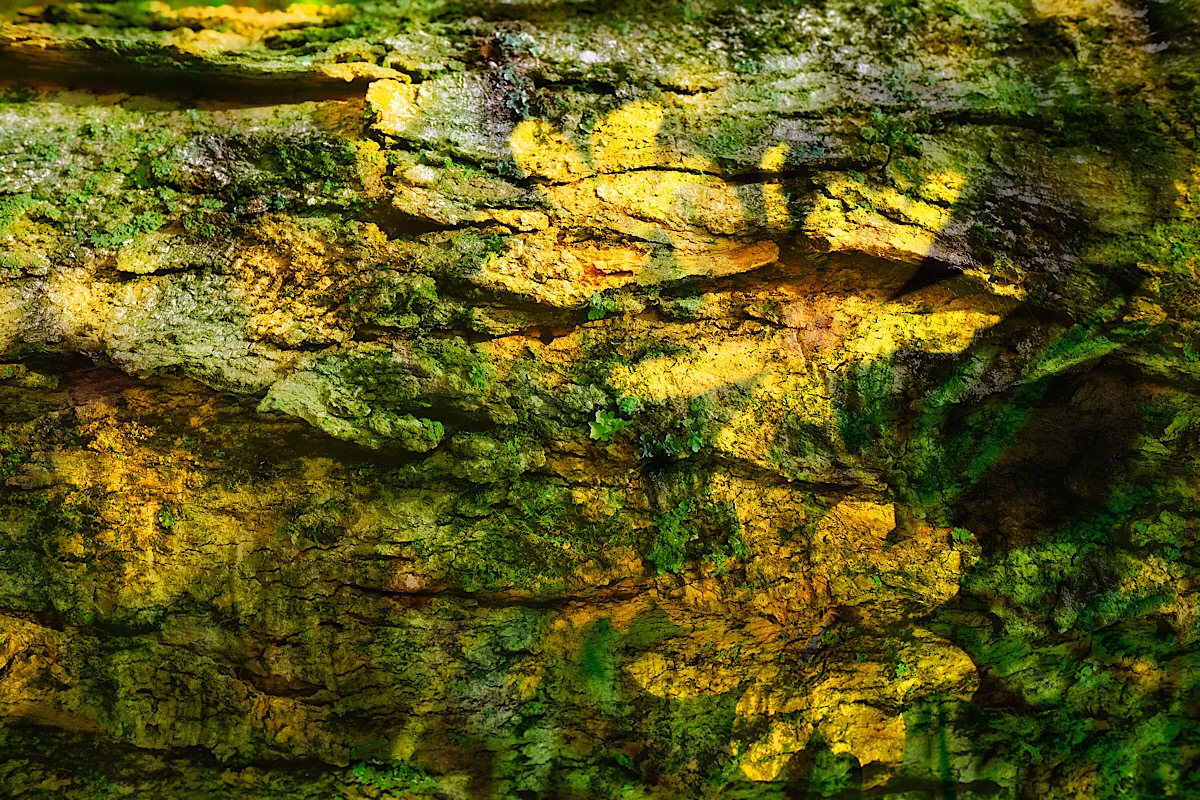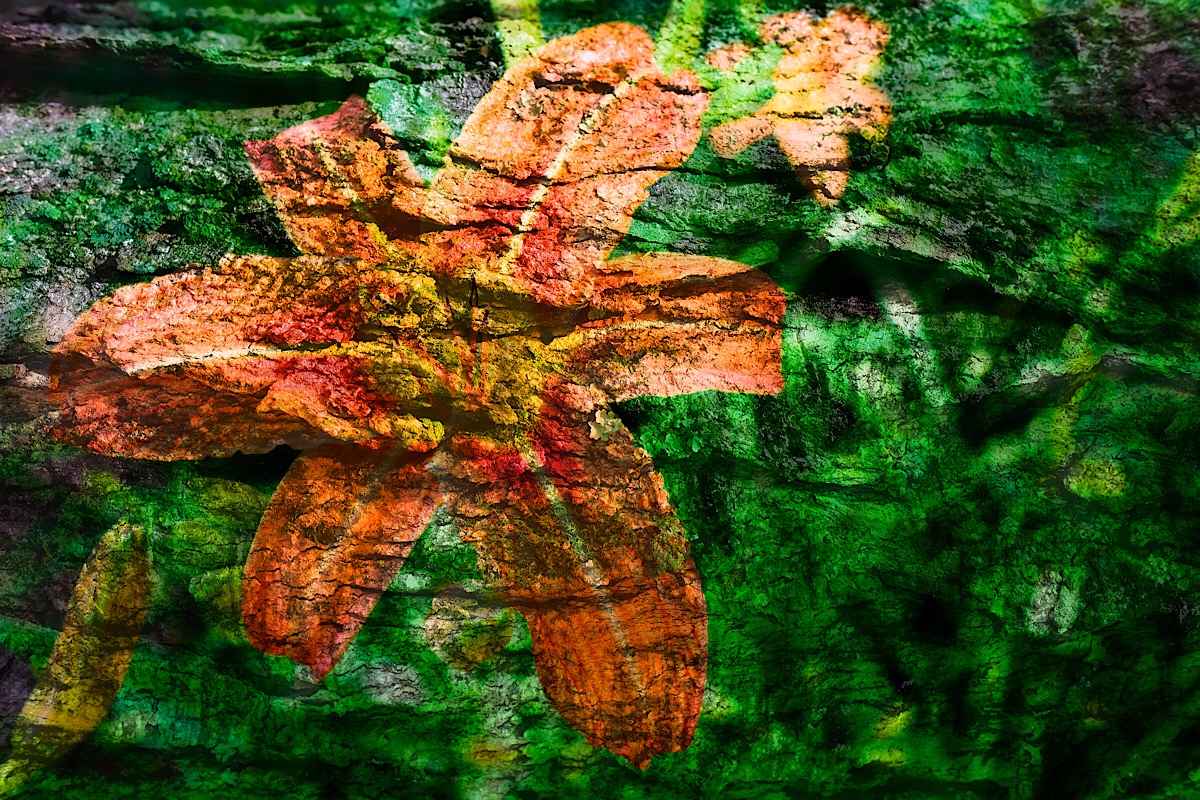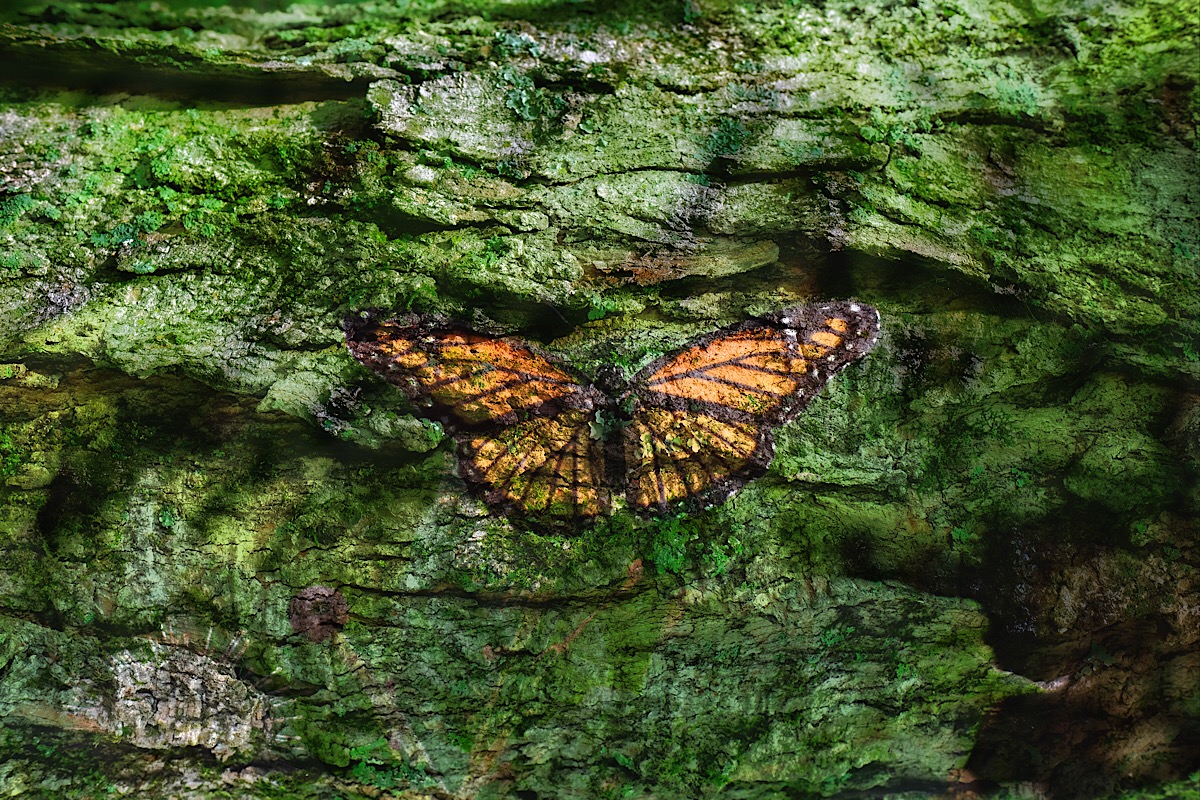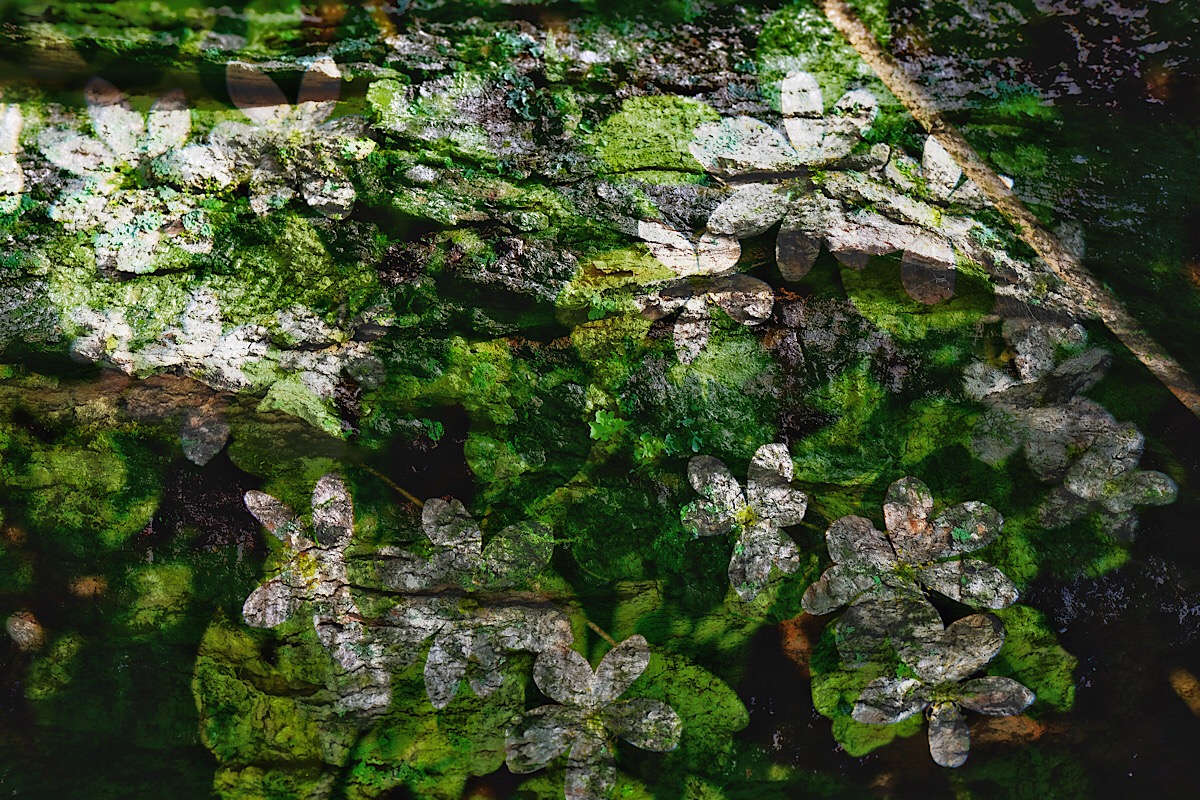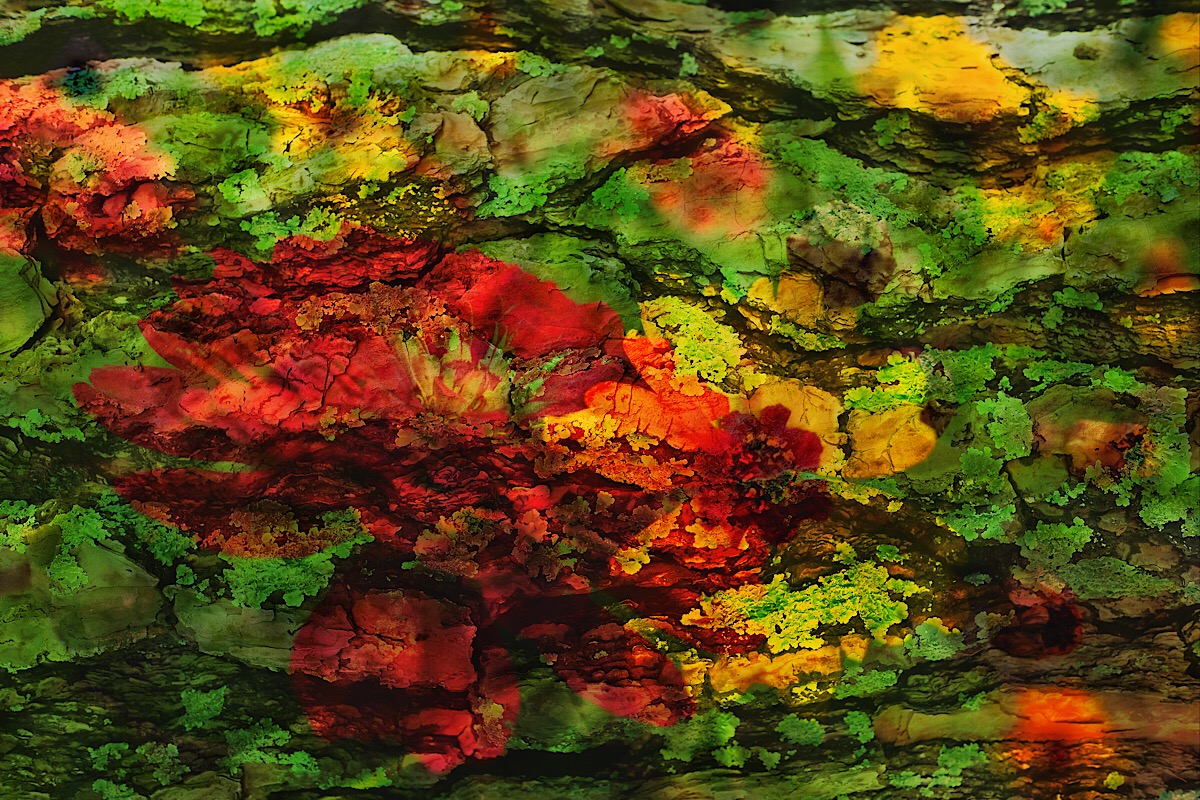 Success in the World of Composite Photography
Fortunately, my potential client became an actual client! I shared with her both the flower and butterfly composites I created, and she ended up purchasing three prints that worked well together. She included my first composite, Light Leaks, in her selection, which I think is a testament to the strength of the original concept and technique. Once her prints are framed and hung, I hope to bring you an update straight from her on what it's like to live with her prints, as well as the feedback she's getting from friends and family.
Thanks for reading! Since you're already here, please take a look around and then leave a comment. If you like what you see here, help me realize my modest dreams of success; SHARE THIS CONTENT on your social media networks using the Share button below. Thank you and Enjoy!
-- Angela Martin
p.s. – Click here to get a FREE PDF Download of some of my most beautiful Seascapes.